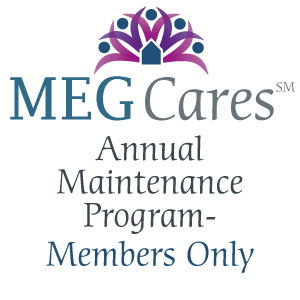 You have taken the important step of creating an estate plan with MEG International Counsel, PC, but that doesn't mean you are done forever. Many things can change over the years and your estate plan may not continue to meet your needs. Because life is unpredictable and family dynamics change, we offer an annual maintenance program that allows you to make changes whenever you need to, ensuring that your estate plan always works for you. We care about you and your family, and we want to be sure all your needs are met in one place.
What Is MEG Cares℠?
Taken one at a time, multiple phone consultations and changes to legal documents can become costly. However, when you enroll in our annual maintenance program, MEG Cares℠, all of these services will be covered under the plan. You will pay one flat fee each year and will get unlimited access to our attorneys for:
Telephone and email consultations
Changes or modifications to your living trust or estate plan
Notary Public services
Alignment, verification, and tracking of assets in the trust
Annual Membership in DocuBank®
Annual family meeting
The most important part of the program is the annual MEG Cares℠ family meeting. At this meeting, we review the previous year, look at laws that may have changed, assets you may have acquired or sold, and examine your current priorities to make sure your plan still works for you and your family. If your plan is not ideal for your current situation, we will make the necessary changes so that it does meet your needs. Of course, you do not have to travel to any of our offices for this meeting. We can conduct the meeting in a teleconference or on a web platform for your convenience.
MEG Cares℠ Is INCLUDED for the First Year
Our international estate planning clients are automatically enrolled in MEG Cares℠ for the first year. If anything changes in the year after completing an estate plan with us, you can simply call us to discuss the changes. After the first anniversary of your estate plan, the annual price of MEG Cares℠ shall be $6,000. Clients who decide not to participate in MEG Cares℠ in a given year, and subsequently want to make changes to their estate plans, have consultations, etc., will be able to reinstate their membership by paying the annual fee in arrears, or by paying the then current price for the service they are soliciting. If clients choose not to participate in MEG Cares℠ for two consecutive years, the cost of consultations and modifications to their plans shall be subject to our then current prices.
Complete the form on this page to receive more information about MEG Cares℠.