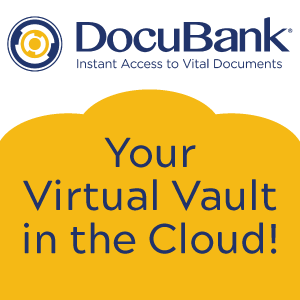 You know how important it is to have certain legal documents drafted and signed. Medical powers of attorney, living wills, and advance directives make your wishes clear if you become incapacitated. But how will the people helping you in an emergency situation get access to these important papers? At MEG International Counsel, PC, our clients can opt to become members of the online document storage solution, DocuBank®, giving them and their medical providers 24/7 access to these vital documents.
How Does it Work?
When you create an estate plan with us, you will get a free DocuBank® membership for one year and an option to renew your membership after that. When you join DocuBank®, you will be directed to a website listed on your membership card where you can opt-in to SAFE, a password-protected online document storage system. All of the estate planning documents we create will be given to you on a flash drive and you can load them into your online "vault." You will then have 24/7 access to them. Your membership card also provides medical personnel with your access information so that they can view and print your advance directive or other relevant documents to honor your wishes in an emergency situation. Along with your directives, the hospital will also receive the names and phone numbers of your emergency contacts and primary care physician. The card also lists allergies and medical conditions to help doctors provide you with the best treatment. As a DocuBank® member, you can also scan and load other valuable documents, such as passports, titles, and deeds. It truly is an online safe deposit box that eliminates the need to go to a bank vault to get the papers you need when you need them.
The MEG International Counsel, PC Difference
Any firm can help you prepare legal documents. Documents such as an advance directive and healthcare power of attorney give you control over the medical treatment you receive and your end of life wishes, but only if the doctor or hospital that is treating you has a copy of it. Our firm is committed to making sure your advance directives work. One way we do that is through membership in DocuBank®. To learn more about this valuable service, fill out the form on this page, and one of our attorneys will be in touch with you to answer your questions.